Rate Now
Share Your Experience
Have you seen Dr. Bruce Rajala?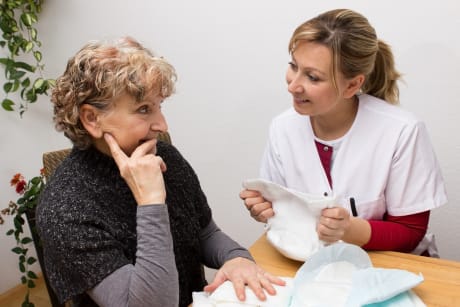 Urinary Incontinence
Learn about the symptoms and causes of urinary incontinence or urge incontinence.
Quality Rating
Highly Satisfied
75 Ratings with 17 Comments
3.0 Rating
October 20th, 2016
4.0 Rating
March 2nd, 2016
4.0 Rating
November 13th, 2015
Caring doctor
I just had my first baby back in September. I have had several friends delivered by Dr. Rajala and all recommended him. Granted the wait can be long and the pregnancy check ups short unless you have complications. He always anwsered my questions and had a good bedside manner. My delivery was ok, I was induced and didn't see Dr. until I was dilated and pushing but the nurses were in contact with him regarding my care the entire time. I had a relativity smooth delivery other than some bleeding and tearing. Honestly I love this doctor for the care I received at my postpartum check ups. I was a mess and he was so sweet to me and never disregarded my feelings and for that I am so grateful. I did have the "baby blues" but was also diagnosed with postpartum anxiety which he gave me medication and recommended I see a psych to F/U which I felt was appropriate. I will definitely be going back to him for my second pregnancy. Also his staff was also always very nice/caring.
3.0 Rating
October 26th, 2015
Good but not great.
This is my second pregnancy and my last doctor was Dr. Heidi Harms in Dallas who was very thorough and awesome. I was recommended Dr. Rajala and decided to try him since I live in Allen now. The wait time is ridiculous, I am talking 30 minutes to an hour every single time. The staff is alright, all just very young other than one nurse and the receptionists, one of which is very short with everyone. Dr. Rajala is very nice, but if you want a personable and thorough doctor do not choose him. He is very fast, and seems very over booked therefore barely spends any time with you. It's not a terrible experience to be clear, just not a great one either. I am having a C-section so I am a bit nervous but I know he has the expertise so...good luck to me.
5.0 Rating
July 9th, 2015
Fantastic doctor
5.0 Rating
February 25th, 2015
5.0 Rating
July 18th, 2013
Most incredible OB/GYN!!!
I have been going to Dr. Rajala for ten years now and there is no one that I have been more pleased with. Yes he is sometimes crunched in time due to patients needing him for deliveries and complication that have to be fit into a day of his already full schedule. He's busy because he's absolutely incredible!!! He's spends the time I need with me witch changes from visit to visit. There has been a time or two where I have requested him to call me back instead of a nurse and he has done so. Truly a happy patient!!!
5.0 Rating
July 25th, 2012
I absolutley Love Dr. Rajala
5.0 Rating
September 30th, 2010
Caring!
5.0 Rating
August 28th, 2010
The greatest doctor ever!!!!!!!
he is a very understanding to my needs!!!he was there for my first and only child that took me 3 years to create and he was there for the entire thing. he is the best doctor ever!!!!!!!! keep up the good work that you give us and our families. the staff that you have are awsome...........Thanks alot.
5.0 Rating
April 20th, 2010
Dr. Rajala is an excellent doctor! He shows compassion and is genuine. He spends all the time with you that you need. He never rushes you..always knows whats best. The wait in the waiting room is a little long, but once you get in your room and visit with him, you know why. He cares about his patients and gives them the time they need...and that is unheard of. I love him!
5.0 Rating
February 5th, 2010
outstanding doctor
im now 35 weeks pregnant and ive been going to dr. rajala since i found out. hes an amazing dr. ive been sick numerous times and had horrible ear infections and he got me through all of it and even called me to make sure it was all taken care of. i love love love his nurses and i think he is a very careing man. my mom went with me to a few appointments and absolutly loved him and is thinking about switching to him for her gyno. yes i have waited an hour or more to see him but hes a very busy dr. who is very good at what he does. one of my appointments even went into the office's lunch hour and they didnt try to push me out the door or anything. i would recomend rajala to any body!
Nearby Doctors

Dr. Bruce Rajala is similar to the following 3 Doctors near McKinney, TX.