Rate Now
Share Your Experience
Have you seen Dr. Charles Brodsky?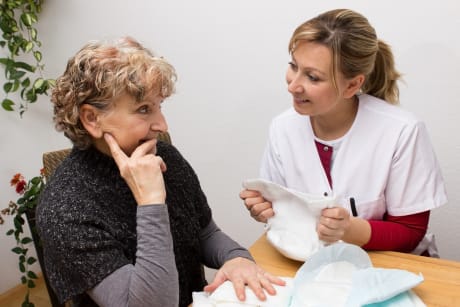 Urinary Incontinence
Learn about the symptoms and causes of urinary incontinence or urge incontinence.
28 Ratings with 11 Comments
1.0 Rating
April 20th, 2016
Terrible Doctor
Dr Brodsky is a very rude and uncaring doctor. He is the worst doctor I have ever encountered. Having a baby is one of the most celebratory times in a family life but this doctor will make the experience sour for you. If you question anything he will drop you from his care within a heart beat. If this is your first pregnancy, he will likely induce your labor and you will likely have a C-section no matter what. This man should not be practicing medicine.
5.0 Rating
November 18th, 2013
Great Doctor!
1.0 Rating
July 31st, 2013
x
I just had my first child and in the beginning of my pregnancy I was having a lot of problems with bleeding and lower stomach pains...I would have to go to the emergency room because there would be so much blood all three times Dr. Brodsky said that it was normal for a woman to bleed during pregnancy but according to the hospital I was threating a miscarriage all three times...Later on in my pregnancy I was itching and having vaginal discharge when I told Dr. Brodsky about this situation once again he said it was normal for a woman to have vaginal discharge while pregnant...I went to another Dr. and they told me that I had a yeast infection something Dr. Brodsky would have known if he just took the time out to check I never had a yeast infection so I had no clue about what was going on...When I had my one and only ultrasound it confirmed that my baby was breeched in my eight month I asked Dr. Brodsky if he was still breeched because I kept feeling kicks down low he said that it was the baby's head even tho it was my first child I knew that wasn't right...I also wasn't gaining any weight I was nine months pregnant and you wouldn't even know I was pregnant unless I told you...Dr. Brodsky told me that he had never delivered an underweight baby so I should not be concerned needless to say when my water broke my son was trying to come out feet first and he was underweight(still breeched)...So the whole time I was complaining to my doctor about my lower stomach hurting I now know why. I do not recommend any one to go to Dr. Brodsky, he's really not concerned about his patients and that's why you're in and out on your appointment days...
1.0 Rating
October 1st, 2012
Horrible Doctor- Women, Stay AWAY from him!!
Brodsky suggested a C-section without provide a legitimate reason. Even the nurses advice me to wait and keep trying for natural delivery. He became very upset when I decided not to go into C-section right away. He stated that he was releasing me from his care and left me to the nurses. It was unbelievable. Women should understand their rights and not let greed doctors lured them into C-section without a legitimate reason.
5.0 Rating
August 8th, 2012
Dr. Brodsky is excellent. I've really enjoyed the service he's provided. I'm pregnant with my first and I'm healthy and low-risk but he has still been very attentive, answered my questions, sat and talked with me at each appointment and seems to take an interest in ensuring I'm at ease. He ALWAYS asks if I have questions or concerns; is always in the room to see me quickly even if I'm late (even when I'm running late I have never waited more than 5 minutes to see him). His nurse Joyce is also super nice and friendly. I've overheard his interactions with other patients almost every time I'm in his office and he is consistently the same kind, friendly and disarming person he is with me. Just a generally nice person to deal with and a very caring, knowledgeable Ob.
1.0 Rating
October 14th, 2011
Worst Doctor Ever
I went in to Dr. Brodsky for a checkup in 2006. He did the typical pelvic exam and looked at a swollen lymph node that was a concern to me. He said the lymph node was "shoddy" and not to worry about it. I took issue with the term "shoddy" but was glad I didn't need to be concerned. He was okay until after the appointment. He looked at my medical history and began to pressure me into taking birth control pills for irregular periods I was no longer having. He never even bothered to ask me whether I was still having a problem with them. Needless to say, I refused the birth control pills, but he made that refusal as difficult as humanly possible. This doctor is disrespectful of women's rights and health and has a policy of writing prescriptions fist and asking questions later. Avoid him!
1.0 Rating
February 16th, 2011
Horrible Doctor
2.3 Rating
December 17th, 2010
5.0 Rating
October 23rd, 2009
ten weeks in bed
Doctor Brodsky and his group did all they could to help us with our "at risk pregnacy" . In the end after battling with pneumonia and an emergency procedure or two and a ten week stay on hospital bedrest we have a big healthy beautiful baby boy . The care was great but the acts of kindness and genuine concern will never be forgotten . I want my son to be the kind of Doctor and person Doctor Brodsky is .
5.0 Rating
February 7th, 2009
You will love him!!
5.0 Rating
December 9th, 2008
5.0 Rating
November 1st, 2016