Rate Now
Share Your Experience
Have you seen Dr. Fabio Fiore?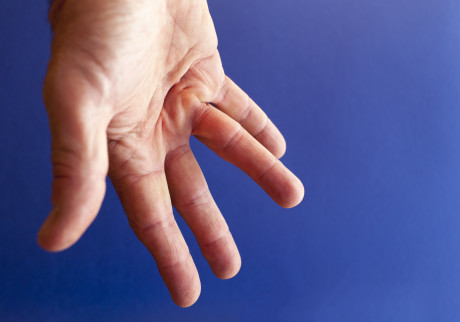 Dupuytren's Contracture
Dupuytren's contracture is a thickening of the tissue beneath the skin of the palm of your hand
33 Ratings with 14 Comments
5.0 Rating
March 31st, 2017
Amazing Caring Doctor
I have a number of surgeries over the years and have been treated by a number of Doctors and surgeons. I have to say Dr. Fiore is on the top of the list. He is the most Amazing, caring and extremely professional surgeon I have ever met. He is thorough in his first meeting. His knowledge of just about every area of medicine is overwhelming. His surgery skills are the best I have ever experienced and his honesty is the most refreshing of all. I only wish he had a general practice. I highly recommend him. He is worth the wait to see him
1.0 Rating
December 30th, 2016
Disregard for patients time
1.0 Rating
September 3rd, 2016
Previous Patient
I went in for a simple scope on my knee... ended up having to have a second one done 6 weeks later because of incorrect post op procedures. I changed doctors to get the proper care so that I would be able to drive again, after 2 additional MUAs. I am now legally handicap(knee)because of the original surgery. I wouldn't ever recommend any one to go there.
1.0 Rating
June 16th, 2016
I would never recommend anyone to go to this doctor. I went in for a simple arthroscopic scope on my knee and two surgeries later end up with a handicap tag on my car. I had to follow up with another orthopedic doctor and have multiple MUA's done to achieve acceptable ROM in my knee to be able to drive again.
1.0 Rating
March 30th, 2016
Dissapointment
I heard very good things about this center and unfortunately was very disappointed. Had a 10:00 apt arrived at 9:50 to complete any paperwork needed. After waiting in a room for over an hour and a half I got up and left at 11:50 without being seen by the dr. I had to come out of the room to see what was going on or if I was forgotten, was told I was next and dr. was behind which I decided to wait another 15 minute which led to 25 minutes. I am sorry but this is unacceptable . I will not be returning to this office.
5.0 Rating
March 21st, 2015
5.0 Rating
April 11th, 2014
Fixed what other Dr messed up
Another Dr had messed up my knee giving me a surgery not needed could have done something different. Dr. Fabio listened and made suggestions. He removed the problem and I am now healing. Two other Dr's would not listen but he did. Dr. Fabio has given me a chance at my old life. If I ever have to have work I will be back.
1.0 Rating
May 13th, 2013
Can you slow down for
WOW. I have just changed doctors due to me moving to the area. I have never seen such bedside manner as the staff in this office. Horrible. I never got to ask one thing every time I tried to talk he would talk right over me. Not only that but he would add stuff or take away stuff that I said when talking into his recorder. Also he took two phone calls while I was in the office. I have seen two other doctors for my back and this guy comes up with a completely different diagnosis. How can you do that when you don't even do a full exam on me. All he did was read the other Doctors notes disagree and send me on my way. I rather drive 7 hours back to see my last doctor than ever walking in those doors again. Please keep in mind others comments before you go to this doctor.
1.0 Rating
August 8th, 2012
Don't waste your time.
2.3 Rating
April 16th, 2012
horrible wait
1.0 Rating
February 23rd, 2012
Ugh! Where to begin??
The office staff is AWFUL! Those ladies should be working at a fast food place or DMV. I have never seen such horrible bedside manner from both the staff and the doctor. I went in for knee pain..within 5 minutes he said it was a torn minicus and wanted to schedule me for surgery but said I had to go for an MRI as a "formality". Well guess what? It wasn't a torn minicus-its arthritis, water on the knee and a bakers cyst. He then said I could get a cortizone shot or have it drained. I called a week later and made an appointment to have me knee drained. When I get there he said he couldn't do that in the office, gave me a cortizone shot and said come back in a month. Why did the receptionist schedule me for a knee draining if he couldn't do it that day??? Then when he was going to give me the shot he was in SUCH a hurry. he dug into my knee with his nail asking if that hurt. I said YES-your digging your nail into my knee!!! He was in such a hurry to get out of there I didn't even get to ask any questions. Horrible service-will never go back there or recommend to anyone. When I saw my primary doc and told him who I saw for me knee his words were "I never EVER send anyone to him". I am now seeing Dr Garlick at Florida Orthopaedic Institute. Their staff is excellent and I'm very pleased with the service I have received there.
5.0 Rating
May 5th, 2011
EXCELLENT STAFF!!!!!!!
Nearby Doctors

Dr. Fabio Fiore is similar to the following 3 Doctors near Brandon, FL.

Dr. Gregory Hahn

Pediatric Surgery, Orthopedic Surgery of the Spine, Orthopedic Surgery

Brandon, FL 0.15 mi