Rate Now
Share Your Experience
Have you seen Dr. Jennifer Iacovelli Malone?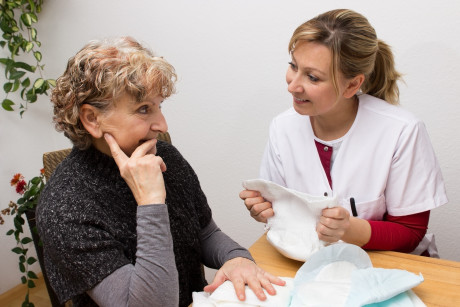 Urinary Incontinence
Learn about the symptoms and causes of urinary incontinence or urge incontinence.
Quality Rating
Highly Satisfied
63 Ratings with 21 Comments
1.0 Rating
March 14th, 2017
Overprescribes hormones
She claimed to be a "hormone expert" and when going through my lab work, claimed that my values that were technically "within normal limits" was really low for normal, and she put me on thyroid and testosterone medication. I was asymptomatic and she pushed these meds on me, all of which need close monitoring, resulting in numerous additional office visits and blood draws. I would never recommend this physician.
5.0 Rating
March 2nd, 2017
The only doctor that will help me with my hormones
I love her. She is the only doctor and I've gone to 5. She is the only doctor that will treat my hormones and my thyroid. I am a breast cancer survivor and I am not permitted to have any estrogen. And she is the only doctor that is comfortable helping me. She has helped my horrendous hot flashes subside about 90%. I'd also like to add that since I have been seeing her my cancer markers have leveled out and dropped. They had been climbing for 18 months.
5.0 Rating
September 16th, 2016
Best doc ever
I have been struggling with thyroid and hormone issues for quite a while. I have been blown off by a lot of other doctors. This is the FIRST person who LISTENED to what I had to say AND had some good recommendations. She started me on medication and I have been feeling better and better each week that goes by! She has made me feel like my old self again. I have been depressed because I couldn't imagine feeling this bad for the rest of my life. I am only in my mid 40's. Not feeling good has made me very emotional and has been disruptive in almost every aspect of my life. My husband and kids have been great putting up with me, but even they have realized a huge improvement on how I act and feel. Thank you Dr I, you gave me back my life. My family thanks you too. I will send all my friends and family your way.
5.0 Rating
September 8th, 2016
Awesome experience
5.0 Rating
August 3rd, 2016
5.0 Rating
April 12th, 2016
1.0 Rating
June 27th, 2015
Bad delivery
I never once met this doctor, she was on call when I went into labor. She was very cold and rude. The epidural was too strong and I couldn't feel anything so when she asked me to push I couldn't. They made me wait for the epidural to wear off which then caused me way too much pain. I started to bleed so badly they had to keep exchanging my sheets I had blood everywhere. She continued to ask me to push and nothing was happening she snidely said "don't you know how to push you did have a kid before". They had to use the vacuum which she put in and pulled out so hard I splattered blood all over the doctor the nurse and all over the walls it looked like a crime scene. She then said rudely if you don't push now I will have to give you a c-section and then my baby came out. I had to sign paperwork stating I didn't have any stds since my blood got in the nurses eye. The nurse and doctor were so rude and made me feel like I was carrying some disease they could catch. Doctor left abruptly and then they had to draw and test my blood to confirm I didn't have anything which they lost my blood draw and couldn't find it and had to do another draw. My experience was awful but I am thankful my son survived and is almost 2 years old now.
5.0 Rating
December 17th, 2014
1.0 Rating
March 12th, 2014
Horrible doctor for a miracle
I was pregnant and went to Drs. Goodman and Partridge OB/GYN office in Chandler and saw Dr. Iacovelli one time, she rushed the appointment and wasn't very talkative so I would request to have a different doctor every appointment after that. Well, turns out she is on call when I go into labor and ends up delivering my baby boy. My labor was very quick and had 45 mins of pushing. I was dilated at 6 when they called her in for the first time and she seemed irritated and annoyed that she had to come in. She tells the nurse to call her in an hour, well it wasn't that long I would say maybe 10 mins until I was 10 cm. So they called her back in and she seemed even more irritated!!! While I was pushing she wasn't giving me any good feedback just the "push push push". Then when baby was out, she was VERY rough sewing me up I had to press my epidural button!! And then she was gone!!!!! Nothing was said to me, and all of family that was in the room noticed how tense she made everything and how she wasn't comforting.
5.0 Rating
July 27th, 2013
Traveler from Globe
I saw Dr. I for most of my pregnancy visits prior to delivery and fortunately she was at the hospital when I went into labor. We had a nice delivery but then I had a lot of bleeding after delivery. She was quick and efficient (from the little medical knowledge I have) and she explained to me and my family while she was trying to stop the bleeding. I ended up having a procedure to block blood to my uterus, and luckily didn't need to remove the uterus. She stayed with me (and held my hand) the entire time it was being done, even after she was done working and supposed to go to the office. She stopped by the hospital the next day and then called me once after I was released from the hospital. I am so lucky that I found Goodman and Partridge and Dr. Iacovelli. I will definitely keep coming back as long as she is there.
5.0 Rating
January 26th, 2013
LOVE THIS WOMAN!!
Never thought I would say that I enjoy going to the gyno. Dr I is amazing! Always friendly, up to date on medical facts and very knowledgeable. She is pretty funny too. My friend who Dr I diagnosed with cancer actually referred me to Dr I. Dr I called her several times after initially telling her she had cancer, then called, to make sure she was set up with the oncologist and then to see how surgery went. We are sending all the Sun City gals to Dr I. Thank you for being so wonderful to me and my friend.
5.0 Rating
June 1st, 2012
REALLY GREAT DOCTOR!!
I chose Dr. Jennifer Iacovelli when my friend told me how wonderful she was... SHE WAS NOT KIDDING! I recommend this woman to all of my friends. She is genuinely caring, she talks to you as if you are her friend, yet in a professional way. If she moves to a different state, I will go to that state if I ever become pregnant again just to have her deliver my baby! She did a wonderful job, I wish all doctors were like her!