Rate Now
Share Your Experience
Have you seen Dr. Kimberley Fillmore?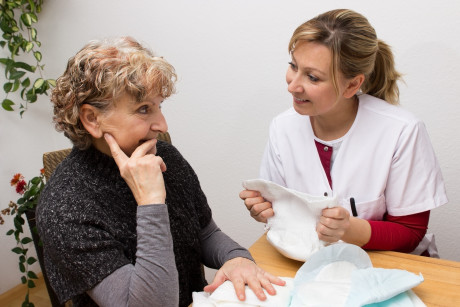 Urinary Incontinence
Learn about the symptoms and causes of urinary incontinence or urge incontinence.
36 Ratings with 17 Comments
5.0 Rating
January 28th, 2016
Thank you for saving my life!
3.7 Rating
March 3rd, 2014
Long-timer needs help!
I have been a patient of Kim's for about 24 years. I love her.... we met when I was in a place medically that no one else could figure out. She just happened to be the gyn on call at the hospital I was admitted to. From day 1, she has always taken good care of me. She literally saved my life! Years after that, she delivered my son, who was premature, and took amazing care of us. We have shared our personal lives, cried and laughed together, and I was blessed to have her taking care of me. When I got the call saying her practice was closing, I was really afraid. I didn't know how to proceed. Her office staff didn't understand, at first, but finally realized my plight. They called in my prescriptions to tide me over until I could find another doctor. The PA I had been using for years passed away about a month later so I have really been in a jam. I know Kim had a lot on her plate and took her gift very seriously. To say that she was over-worked didn't describe it. That was because she did her best to take good care of everyone. I hate to hear people had bad experiences. I understand her need to make a change and I pray that it is just that and not something else, like a medical issue. I was sad that I did not get to say goodbye. I am, however, concerned about my records. I have had some pretty unique medical issues and several procedures that a new physician needs to know about. That is a long time to try and remember exact dates, medications, etc. I still don't have a doctor and pray I find one whom I trust again. If anyone knows how to get records please share. For those who are angry, lets hope that she is ok. I just can't imagine her leaving people hanging like this without a serious reason.
1.0 Rating
February 4th, 2014
What the heck happend????
I have been trying to make an appointment for my annual. Could not reach her office for weeks, Come to find out she CLOSED HER PRACTICE!! Need to get my medical records from her, Nobody knows how. Absolutely ridiculous! I have been a patient of hers for over 15 years.
5.0 Rating
February 4th, 2013
The Doctor you can trust yours and your baby's life.
It is so sad that all negative reviews will take a chance from other woman to get one of the most professional OB/GYNs out there. I have been going to Dr. Fillmore for 5 years and have delivered 2 babies with her. She saved my babies both times. She KNOWS her job so well, that other doctors who have wonderful bed side manner may have a clue about. If you are looking for a doctor who will be smiling at you and spending 30 minutes with you every time you show up, then she is not for you. If you are looking for a doctor who will see you promptly, Dr. Fillmore's office is a wrong place. But if you are reasonable, you will understand that the doctor who is delivering all the babies herself cannot be prompt. She is working non-stop, sometimes without sleeping. She is making decisions which save people's lives every day. It is such a pity that only upset women are writing reviews. You should come into her office and read all the wonderful cards hanging on the walls which come from happy patients. Dr. Fillmore is not talking much, she is not coming to chat with you. But she KNOWS what needs to be done. I hear so many horrible stories from people I know about doctors' mistakes, about them smiling a lot, but letting things go on their own, for example, letting a woman carry past due date, etc, and then women getting emergency c-sections. With Dr. Fillmore this would not happen. Now, don't get me wrong. I am not idealizing the whole practice. The girls at the front desk are, softly speaking, not knowledgeable in whatever they are doing. The nurses, however, are extremely nice. So if you manage to get over the front desk disaster, you will get an opportunity to be observed and taken care of a highly professional, experienced, responsible doctor who will not let anything happen to you or your baby.
1.0 Rating
November 10th, 2012
Dr. Fillmore was rude and did an awful exam if at all.
2.3 Rating
September 24th, 2012
Did not call with results
The office staff is incompetent. I was not notified of an abnormal pap, and on another occasion when I requested biopsy results, I was given an incomplete record, and then treated as if I was being unreasonable, after driving to the office twice to pick up records, as they were unable to fax them to my new doctor in a timely fashion. Dr. Fillmore acted as if I was being unreasonable, when in fact it was her staff that was sloppy and/or overworked. I am changing doctors.
2.3 Rating
September 18th, 2012
So - so
I have been going to her for about 8 years. Mostly you never see her, only her NP. But when you do have appt with her she is always running 30 - 60 minute behind. And I feel like she is just trying to get co-pays for every little thing. Somethings they could just call you and say your test results are fine but instead they make you come in for a 2 minute visit just so you pay another $40 copay.
1.0 Rating
August 6th, 2012
Extremely Unhappy Patient
The doctor would not let me tell her my symptoms - she was totally rushed. When she performed the exam, she was extremely rough and hurt me! She told me that I had one thing, but when I researched it, it had totally different symptoms than I was experiencing. When I went in for my second (follow-up) visit, the staff said that she was not in and that they had called me several times on my disconnected home phone (a number that I never gave them). I gave them my cell phone, but they did not bother to call me on that phone, so I drove for over an hour for absolutely nothing. Besides, why would they call a disconnected number several times? Both the doctor and staff are very, very rude. I will not be going back to them!
1.0 Rating
July 10th, 2012
American Medical Association
I am flabbergasted by Dr. Fillmore and her whole entire staff. Whenever I had an appointment, I had to wait from 45 minutes to 1 hour. In one case, I was the only patient and sat while she conversed with a friend for over one hour. Then she comes in for the one minute exam and she's gone. NO follow-up; no telephone calls; no lab results. She is a disgrace to the profession; is arrogant and has NO bedside manner. The last time she had her Assistant call me to tell me that I had BV. I had no idea what it was and was terrified. The gel she prescribed through her Assistant didn't work and when I complained because there had been such a delay in treatment, she was sarcastic when she came into the room. When I asked for a stronger medication, she told me that she didn't like it but didn't do anything else to relieve me of my anxiety or clear it up. Finally, I told her Assistant what a BAD name she had amongst her patients and she made excuses for her! I asked for ALL my records to include lab work, etc. She charged me $25.00 and when I went to pick them up, they were WRONG and incomplete plus there were 3 other patients records with mine. I demanded all my records from the dirst day to the last day. I will NEVER go back to her. I am printing out all of the complaints I can find to send to the AMA. She shouldn't be practicing medicine!
1.0 Rating
June 12th, 2012
The worst
She would rather get her make-up done at her skincare office next door than review your file. P.s Dr Fillmore your OB appointments can see into the skin care office. Thank you for making me wait just over an hour for my appointment while you pampered yourself. Then to add insult to injury you asked me why I was even in your office. Need I say I found a caring doctors office for my next pregnancy.
2.3 Rating
January 4th, 2012
Dr. Fillmore delivered my first baby and had a great experience. However, I must say that she is very rushed and always in a hurry for appt. Spends only a minute each time after waiting for over half an hour. But I believe she is well experience and a good doctor. I just wish she had better bedside manner and more approachable. Her staff is okay. I always have to follow up about test results before if not I am never told anything!
2.3 Rating
June 2nd, 2011
Hope you never need to ask her anything via the phone. She WILL NOT call you back as a policy. You will speak through staff making it a back and forth game for you versus her just spending 5 minutes on the phone with you. She has a foot out the door before you even get questions out of your mouth and doesn't explain what is happening to you. I had a surgery with her and I NEVER saw her. Who knows if she even performed the surgery?! Terrible from the start for me, hope others have better experience. Would NEVER send anyone I like there.
Nearby Doctors

Dr. Kimberley Fillmore is similar to the following 3 Doctors near Lodi, CA.