Rate Now
Share Your Experience
Have you seen Dr. Mark Hatton?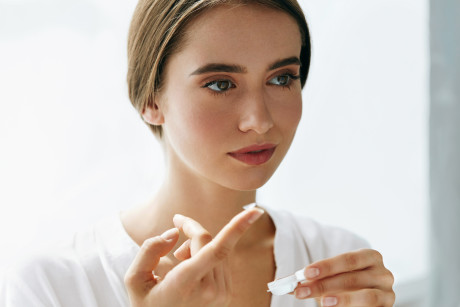 Contact Lens Care
A complete overview of what you need to know about your contact lenses.
26 Ratings with 9 Comments
1.0 Rating
August 31st, 2017
rushed me out the door
1.0 Rating
August 22nd, 2016
Liar, unethical and inaccurate diagnosis
Saw this physician about 6 months ago for a cosmetic consultation. If you're looking for an eye surgeon who could care less about his patients, you've found it with Dr. Hatton. Not only is he a liar, he's extremely unethical as well! He has no bedside manner whatsoever and is a man of a few words. He also has a rushed attitude towards patients. I wouldn't see this physician again if he was the only one in Massachusetts!
2.0 Rating
April 22nd, 2015
Not a cosmetic surgeon !
I had an operation for ptosis ( drooping eyelid) which was half succesful. I was told that this is as much that they can lift the eyelid without becoming starry eyes. This is my second operation ( with another doctor) and i believe what I am told. However the scars and the bumps left on the eyelids are very unsightly and worse that the first time.
1.0 Rating
November 8th, 2013
eyelid surgery-to correct vision
Prior to going in for my surgery I told the doctor that I have bell palsy in my left eye and it would need to be lifted higher. No response, he just nodded. When they rolled me in for surgery, he was text messaging. On my follow up appointment I had to wait 45 minutes because again he was text messaging. During my visit I told him that one eye was larger than the other, he responded good observation and for me not to worry because he can tighten the muscle. my question is why didn't tighten it the first time, now if I want to fix it it's considered plastic surgery that I can't afford. I don't recommend this doctor. Thanks to him I have one eye bigger than the other.
2.3 Rating
June 15th, 2013
Eyelid surgery to aid in vision
I had excess skin removed from my eyelids in May basically to help my vision. After eight weeks, I am a little disappointed in my surgery. Two miniscule pieces of were left at the outer edge of my eyelids and this is the skin that tends to limit vision. If these two miniscule pieces had been removed, it would have been 100% better, However, Dr. Hatton's advice s that I need an eyebrow lift to correct the rest of my vision problems. This is a big surgery that would lift up a tiny amount of skin because if too much if lifted you end up looking like a "deer caught in headlights". Therefore, I am not having that surgery and I wouldn't need it if these two little pieces of skin had been removed during the eyelid surgery. Needless to say, I am not happy with what has been done and it wasn't an easy decision to dive into this surgery and to not be satisfied I the end. It was waste of time and money. No one even notices that I had eyelid surgery.
1.0 Rating
December 5th, 2011
The New England Eye Center was quick to get my medical insurance and co-pay. Afer five minutes with Dr. Hatton, I was told there was absolutely nothing he could do for me and that there was no cure for my eye duct problem. Apparently, according to Dr. Hatton, I am supposed to walk around with a box of tissues for the rest of my life. I will find someone who actually knows something about my condition.
1.0 Rating
July 12th, 2011
Lies Plus
Saw him first in Framingham office. He said he could not perform proceedure there because it required a big machine available only in Boston. Went to Boston. No such machine existed. His proceedure on my eyelid not only did not resolve problem but exacerbated it leaving me in 24/7 pain and discomfort.
5.0 Rating
April 15th, 2011
Professional and Careful Doctor
1.0 Rating
March 16th, 2011
Worst experience ever-- was mislead and forced to overpay
Dr Hatton's office DRASTICLLY mislead me to get me to make an appointment and get my business. I ended up paying $400 in total for a 5 minute appointment. I gave Dr Hatton the opportunity to fix his dishonesty but all he told me was "I can't do anything about it." I am very very upset and would advise everyone to stay away from this scammer!!
4.0 Rating
August 14th, 2017
5.0 Rating
June 29th, 2016