Rate Now
Share Your Experience
Have you seen Dr. Mark Faber?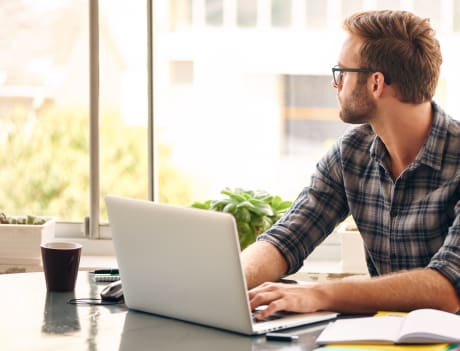 Adult ADHD
Get the facts about attention deficit hyperactivity disorder (ADHD) in adults, including the different types and symptoms of each.
Quality Rating
Highly Satisfied
37 Ratings with 14 Comments
5.0 Rating
January 3rd, 2017
Highly Recommend!
Dr. Faber is a wonderful doctor who has helped my two children better manage their anxiety and cope with daily stressors. He is very easy for them to talk to, very calm, extremely kind and patient. He is a great listener and you can tell he reallly cares about making a difference and helping you. He includes patients and parents together in decision making processes and has a gentle way about him. The differences we have seen in the childrens' mental health are remarkable since working with Dr. Faber. I would highly recommend him!
5.0 Rating
October 6th, 2016
Really Made a Positive Impact in Our Lives
We took our teenage daughter to see Dr. Faber for a second opinion when we had issues with the treatment and advice being recommended by her then psychiatrist. Dr. Faber immediately made us all feel at ease and confident with his expertise and experience, and his suggested course of action. Without hesitation we switched to Dr. Faber, and it was one of the best decisions we made. With his help and guidance, she was able to move forward and to progress. His encouragement and positive attitude made a huge difference in all our lives.
5.0 Rating
August 24th, 2016
THANKFUL
Dr Fabor reach out to my family when a relative call on behalf of my autistic daughter she has serious behavior issues and in a group home her quality is poor to fair he gave us several doctors names hospital and 123 aba behaviorist i am grateful he call us even before we reach out to him how many doctors do that!!!!!! I am hopeful in getting the help my daughter needs she is 25 now and has been seeing doctors for over 20 yrs she has cause blindness in her right eye but can not be correct until her behavior is better please pray for her as well thank you! God Bless!!
5.0 Rating
April 14th, 2016
Caring
Dr. Faber has been a life saver for me and my husband as he was able to improve our quality of life by monitoring our medication, explaining things in laymen terms, spending much time with us as a concerned professional and always making himself available whether day or night. My husband believe in his expertise so much that we have been seeing him a number of years and would rather fight than switch doctors.
5.0 Rating
December 22nd, 2015
Open to a Natural Treatment for Depression
My daughter's pediatrician recommended Dr. Faber when he was unable to find the right ADHD medication for her. Dr. Faber is extremely knowledgeable and found a medication that worked well for her. When I myself needed help with depression, I went to Dr. Faber. However, because of my high sensitivity to several drugs, he suggested that I get a GeneSight DNA test done. Not only did it pinpoint the most appropriate drugs for me, it indicated that I had a faulty MTHFR gene, which means I cannot process folic acid. In reading about this genetic problem, I learned it could be what caused my depression in the first place. After discussing it with Dr. Faber, we decided to first try methylated folate along with a high dosage Omega-3 supplement before trying any of the recommended anti-depressants. I also added methylated B-12 vitamin and now, 2 months later, I am feeling great and do not need any anti-depressants. I am glad that Dr. Faber recommended the GeneSight test and was open to trying a natural approach. He is patient and caring, has a vast knowledge of medications and stays on top of the latest developments in his field. I highly recommend him.
5.0 Rating
July 31st, 2015
Experience was excellent
This doctor was very helpful in my treatment. He was very conscious to not make a mistake, and correctly tracked all of my progress. He correctly diagnosed me, and treated me with respect. He shows his concern for the well-being of his patients. This doctor actually cured me of my illness, which is very hard to find. Thank you Doctor Faber.
5.0 Rating
July 19th, 2013
A doctor you CAN talk to.
Dr. Faber is the kind of doctor who actually takes his time and really listens to you . He is very knowledgeable about current issues in psychiatry. He actually takes time to listen to parents who have issues with their children. He takes a conservative approach to medication, particularly when it comes to young children. He is also an outstanding presenter for professional organizations on any number of topics relevant to psychiatry today. He is very much in demand as a speaker
5.0 Rating
January 23rd, 2013
President of the Wayne Special Parents Association and Chair of the Passaic County Disability Committee
Doctor Faber is an extraordinary and outstanding doctor. After taking my son to several doctors trying to get help for his outburst and disruptive behavior, I finally was able to find a doctor that knew right away what medications to put my son on to be able to control his out of control behavior. We didn't need to try a lot of different medications which can be expensive and frustrating; Dr. Faber prescribed the right medications for my son during our 1st visit. As a result of his intervention, my son was able to transition from a self-contained class to an inclusive class. In addition, when my son transitioned to middle school two years ago I was very worried about the change but, the medications that Dr. Faber provided to my son were sooo effective that he has been in the middle school honor roll for two straight years in a general education class. I am amazed and totally taking back by how different things are going for my son at school nowadays. It is truly a miracle!!! That being said, this miracle would not have happened if it wasn't for the FANTASTIC job and the treatment that Dr. Faber put my son on. Our family feel very bless that we found Dr. Faber, who is so exceptional, deeply cares and provides the support that Matthew needs to excel at school.
1.0 Rating
November 21st, 2011
5.0 Rating
April 26th, 2011
Excellent psychiatrist
3.7 Rating
October 19th, 2010
Not the brightest bulb in the box, but...
...needs to challenge more intelligently and directly than offer platitudes. Specializes in child psych really, although is interested in sleep disorders. My sleep clinic results did not help him in diagnosis, only ruled out whether I stopped breathing more than normal. A very nice guy. Does call back immediately if you have a medicinal or other crisis.
5.0 Rating
April 21st, 2010
Helped me in a bad time.