Rate Now
Share Your Experience
Have you seen Dr. Mark Slovenkai?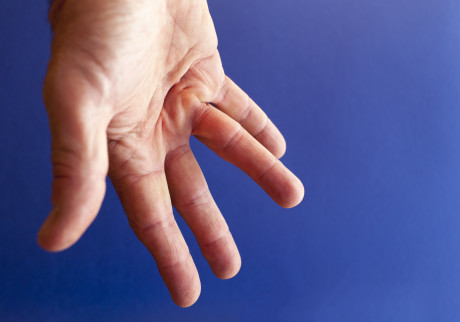 Dupuytren's Contracture
Dupuytren's contracture is a thickening of the tissue beneath the skin of the palm of your hand
62 Ratings with 13 Comments
5.0 Rating
December 2nd, 2015
5.0 Rating
October 1st, 2014
Had 2 successful ankle surgeries
He's a great doctor, in my opinion. He operated on my ankle tendons. I thought I might've needed a 3rd surgery but he advised me conservatively to use the boot for 6 weeks and see how it went. He was right. It healed on its own. I have nothing negative to say about his bedside manner, surgical skills, staff, or anything. He was great in my opinion and I would very comfortably use him again if needed.
5.0 Rating
May 15th, 2014
Ankle Replacement
5.0 Rating
October 16th, 2013
excellent experiencce
after seeing three surgeons in springfield, ma dr. solvenkai was recommended and on my first visit he pointed out and explained things that were going on with my ankle that no one had even mentioned. I had ankle replacement three months ago and things are going well. Have been sought out or contacted by several people that have had fusion and I'm glad I went with dr. solvenkai and total ankle replacement.
1.0 Rating
August 31st, 2013
Just doesn't care about patient
After waiting for 60 min, I had 7 min appointment, during which Dr. Slovenkai seemed to be in such a rush to leave the room from the minute he walked in, that I almost felt guilty asking questions. I asked if physical therapy exercises would help to increase range of motion in my previously injured foot , he quickly dismissed it (clearly didn't have time to talk about it), suggested cortisone shots if pain bothered me, and decidedly wrapped up the conversation. He was NOT interested to discuss any options beyond cortisone shots that were completely unnecessary since I don't have a severe pain and just want to increase range of motion. My insurance paid him for this "appointment". I went to another doctor, who sent me to physical therapy, which helped a lot and apparently is a common way to improve the range of mobility of the injured foot. Doesn't care about his patients.
3.7 Rating
May 30th, 2013
Glad he was able to help me, worth the trip to boston
Love the work he does, No one in my area can ever get me relief, Was going for an ankle replacement, but because of damage needed the dreed fusion. Have more movement than I ever thought possible. Still some pain, but he explained there is nothing else to do. Follow ups were scheduled only when needed after the healing of surgery. Which I like, seeing I am not from the area. He is very pleasant but sometimes rushed.
1.0 Rating
August 8th, 2012
Horrible results
i had 2 separate foot surgeries with this surgeon who was reportedly the best foot surgeon in Boston. After 10 months I still have horrendous pain, the problem is not resolved, and I am looking at a lifetime of disability and inability to walk. When attempting to discuss my post-op concerns his answer was, "I did my job". There was no after care, no follow-up plan, no rehab.....nothing. Basically he washed his hands of me as a person and his patient. Over the course of my 2 surgeries with multiple appointments I was NEVER seen before waiting an HOUR or more for my appointment then got just minutes of his time. Is he a skilled surgeon? Perhaps, but I would never recommend him to anyone!
1.0 Rating
March 23rd, 2012
failed plan of care
Excellent surgeon technically. Horrible follow-up care. Spends very little time with patients and does not listen to their concerns. Does not evaluate the plan of care and make changes accordingly. Bad outcome. Would not recommend him. What good is good surgery if the lack of good follow-up delays your healing?
5.0 Rating
October 31st, 2011
Ankle pain
5.0 Rating
October 12th, 2010
1.0 Rating
April 14th, 2010
disappointed
I have been to this office a few times for ankle problems. Both times I waited over an HOUR in the waiting room. Then, when I finally saw the Dr. he quickly came in moved my ankle and said I was good to go. He didn't ask me questions, nor did I feel he spent enough time with me especially given the amount of time I waited just to see him.
1.0 Rating
February 1st, 2010
Went to Dr. Slovenkai for a second opinion. He simply reiterated what the first doctor said - using a total of 15 words - that he agreed with the previous doctor...is there anything else? And for that, my insurance company was charged $400.00.I expected more elaboration, a more detailed analysis. As it turns out, both opinions were wrong. But perhaps if Slovenaki had actually *studied* the CT scans and XRays a bit more thoroughly as opposed to going through the motions, perhaps he would've been able to give a more appropriate diagnosis. Perhaps an off day...but he was a huge disappointment to me. I most certainly felt as though he could not be bothered with giving me more than five minutes of his time. I think it was actually less than that...
Nearby Doctors

Dr. Mark Slovenkai is similar to the following 3 Doctors near Waltham, MA.