Rate Now
Share Your Experience
Have you seen Dr. Monica Lopez?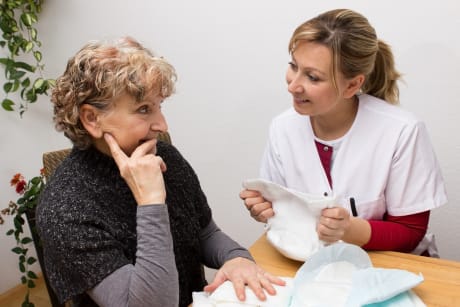 Urinary Incontinence
Learn about the symptoms and causes of urinary incontinence or urge incontinence.
24 Ratings with 10 Comments
1.0 Rating
July 14th, 2015
DO NOT recommend
The ob/gyn I was seeing was great, but she retired so I had to find a new one. I went to Dr. Lopez because her office was conveniently located. I had a horrible experience! I waited at least 30 minutes. She was rude and judgmental/uncaring. Maybe it's because I am in my early 20s, but everything she said to me was condescending. She treated me as if I did not know anything and I was a huge risk for diseases simply because I'm not married. She ignored my personal history and the actual questions that I tried to ask her. The physical exam itself was much more painful than any of my previous ones had been. Overall experience was awful. I felt violated and disrespected. NEVER going back to her.
5.0 Rating
February 16th, 2015
Truelly happy with Dr Monica Lopez
1.0 Rating
April 23rd, 2014
Bad experience
Overall, I had a very poor experience with this doctor and office in general. I was there for a follow-up after being admitted to the hospital the pervious week. There was a very long wait time and communication seemed poor, as no one seemed to know why I was there. The doctor had a very poor bedside manner and her comments and answers to my questions seemed very uncaring, even rude. After leaving her office, I burst into tears once I got to my car. I never went back and ended up having a wonderful experience with another OBGYN. I had never had a bad experience with a doctor before this, but she really made me feel awful. The one positive in Dr Lopez's office is the nurse who drew my blood. She was very sweet and did a great job.
5.0 Rating
April 5th, 2014
I've been seeing Dr Lopez for 4 years and she has always been invested in not only knowing me personally (asking about my kids/work etc), but also addressing my concerns and valuing my ideas and opinions. She has cared for me during two of my pregnancies. My last (a high risk pregnancy) required me to stay in antepartum at Baylor for preterm labor. She would come by EVERYDAY (after or before office hours or during lunch) during the two week period to visit with me. She truly values her patients, but can be very frank and I can see why some people may be put off by that. It saddens me that she has bad reviews and I felt it necessary to share my experience with Dr Lopez.
1.0 Rating
March 23rd, 2014
Very disappointed
I am on my third and final baby and decided to choose a new hospital to deliver, which called for a new doctor. My first appointment was very unimpressive, but really no complaints. My second appointment, I left in tears. I was asked by the doctor and the nurse about 10 times if I had any concerns, but that was it. Dr. Lopez has not asked me once how I am feeing or tried to get to know anything about me. She always seems uninterested and rushed. She seemed to get upset when I mentioned that I had a 3D sonogram and possibly already knew the babies gender. Immediately after that she stated that she would see me in 4 weeks and left the room. The worst part was the girl who checks you out at the end, she was completely rude. She seemed miserable to be there and seemed completely irritated to have to schedule me for an appointment. I immediately ran to my car and started crying. I didn't want to change physicians, because I thought maybe my pregnant hormones just had me reading into things. After seeing her ratings and reading her reviews I will definitely be finding a new doctor. I hope at some point she reads these reviews and sees the negative affect she is having and makes some serious changes for her future patients!
1.0 Rating
November 14th, 2013
Won't be back
I was extremely dissapointed at this doctor. The first visit went ok. The second one I was shocked as how short, uncaring, unprofessional and rude this person can be; she seems to completely lack of profesionalism. I do not wish to disclose what whas said the second time I saw her, I can only say that when I left I just wanted to just burst in tears, which I did when I got to my car. Even the staff seems to be very unhappy and disorganized, in fact they made me come back 3 times to draw blood for one of the tests... I did not go back the third time. Anyone who comes to see this doctor I wish them the best and I hope you have a better luck than me. Definitely DO NOT recommend this doctor.
1.0 Rating
August 13th, 2012
One of the worst doctors I have ever been to....
I was referred to this office as hormone specialists. The first thing out of Dr Lopez's mouth is "I don't believe in silva or blood testing for hormone levels, I rely on symptoms only." From that point on, she was rather short. She was only concerned with whether my period was 'normal' or not. When I had told her it had changed, it had gotten shorter, her response was "well, you should be glad, that's a good thing to not have to deal with any extra days." Her only contribution was I could try taking birth control pills. When I asked if she thought that would help, she said "no, not really."
5.0 Rating
May 26th, 2011
3.0 Rating
February 5th, 2016
Nearby Doctors

Dr. Monica Lopez is similar to the following 3 Doctors near Grapevine, TX.