Rate Now
Share Your Experience
Have you seen Dr. Paul Littman?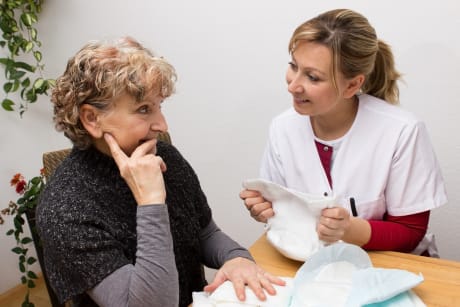 Urinary Incontinence
Learn about the symptoms and causes of urinary incontinence or urge incontinence.
Quality Rating
Highly Satisfied
80 Ratings with 33 Comments
5.0 Rating
September 15th, 2017
Super Doctor!
Dr. Littman is the best! He's the only doctor I met who really cared about me as a person. He not only helped me with my problem, but also came to understand me as a person, and how my relationships with my family affected me. My whole family loves him, and I feel like I can confide in him to tell him anything. He's been a godsend! His office staff is great too!
5.0 Rating
June 11th, 2017
Dr Littman is very caring, thorough and makes you feel like you are his only patient. I am so pleased with the surgical procedure he has done for me. His staff is always pleasant and remembers your name always with a nice greeting. He always greets you with a smile, a handshake and you know instantly you are in good hands.
5.0 Rating
June 6th, 2017
Great Doctor
I saw Dr. Littman in his Wayne office. He explained all the treatment options to my husband and I. I ultimately decided to have surgery, and it was a great choice. His scheduler, Brittany, explained how my insurance plan worked, and helped coordinate a date that would work for me. The surgery then worked perfectly. I had a quick recovery and was back to work within 1 wk! I would highly recommend Dr. Littman and his office
5.0 Rating
May 16th, 2017
Great Experience
I am a nurse who works regularly with Dr. Littman in the hospital. I brought my 22 yo daughter to see him because she was diagnosed with a problem and was told by her general gyn that "nothing could be done." Dr. Littman took the time to review her imaging studies, and then told her that he could correct her problem, which he did. My daughter now feels great! Dr. Littman is the BEST!
5.0 Rating
May 15th, 2017
Very Thorough
I want to publicly thank Dr. Littman for giving me my life again. I previously went to a few other doctors, and always had to wait a long time, and then felt rushed when the doctor came in. Dr. Littman took a long time to listen to my entire story, and then sat down with me to fully explain all my options, including both natural and surgical options. He was very confident that I would get better, and I did!
1.0 Rating
May 9th, 2017
Went to this office after reading fairly decent ratings .Ive seen multiple doctors at this practice and each time I felt like I was taken unseriously and our visits were about 10 minutes long. There is no getting the know the patient, they just want you in and out. There have been times when I have waited over an hour in the waiting room to be seen. I will not go back.
5.0 Rating
March 18th, 2017
Great Doctor and Staff
I recently drove more than 2 hours to see Dr. Littman. He came highly recommended from a friend of mine, and I have to say that the drive was well worth it! He was very caring and compassionate. After my first visit I had confidence that he would solve my problem, and he actually did! I strongly recommend to anyone who needs a great doctor!
5.0 Rating
February 17th, 2017
Surgery
Dr. Littman recently did my surgery. I went to him for a 2nd opinion after being told that I needed "major" surgery to fix my prolapse. Dr. Littman reassured me that my surgery could be done laparoscopically and that I didn't even need to spend the night in the hospital. After doing a lot of research, I trusted his opinion, and he was right! My recovery was a breeze, and I barely needed any pain medication. He also called me a few days after the surgery just to check in on me. Him and his entire office staff were wonderful, and I would highly recommend him to anyone!
5.0 Rating
February 6th, 2017
Thank you!
I would like to thank Dr. Littman and his staff for being so compassionate and understanding. I've been to his office now on multiple occasions to treat a condition that no one has been able to help me with for the past few years. While some doctors have made feel very self-conscious regarding my problem, he never made me felt that way. After about 6 wks of his care, I now feel empowered to control my problem, while also coming off of many of the medications that other doctors had me taking. Thank you Dr. Littman!
1.0 Rating
February 1st, 2017
Offended and Embarrassed
I Initially chose Dr. Littman because of all the great things I had heard about him within my job because he is one of our preferred physicians, and my co-workers talked about how great he is. I was initially apprehensive about having a male GYN because of my unique circumstances, but I thought To myself 'he is younger, and I am sure he is eager to learn about cutting edge issues in today's society!' After all, we are right next door to New York City..but boy was I wrong..and disappointed. I did not feel Dr. Littman was at All engaging or empathetic. He was very dry and standoffish. I could feel the pre-judgement from the start of the visit as soon as I began to discuss my circumstances. I felt that my worse fear of even having a male Gynecologist came true at that moment. He could not get out of my appointment fast enough. I left his office feeling embarrassed and hurt. As a Physician you take an Oath to treat no matter the circumstances and personal beliefs. I have friends in Kentucky of all places who have situations like mine and were treated with more detail and respect than I was here in New Jersey..and at this day in time that is ridiculous. In my opinion, if you have anything out of the Norm going on, I would not recommend him unless you want to be made out to feel like you are less than. I hope in the future he doesn't allow his personal feelings to cloud his clinical judgement, and attempts to treat ALL patients with the upmost ability. Research is key to progression in healthcare. It is everyday changing.
5.0 Rating
November 7th, 2016
Thank you!
5.0 Rating
July 19th, 2016
Thank You!
Advanced Women's Health is great. I made my appt by contacting them through their website.Brittany called me within a few hours. They were able to get me in the next day. I saw Dr. Littman who took the time to listen to me, despite having a waiting room full of patients. We then came up with a solution to my problem, and I'm now doing great. Thank you to everyone at Advanced Women's Health!!!!