Rate Now
Share Your Experience
Have you seen Dr. Robert Dagostini Jr?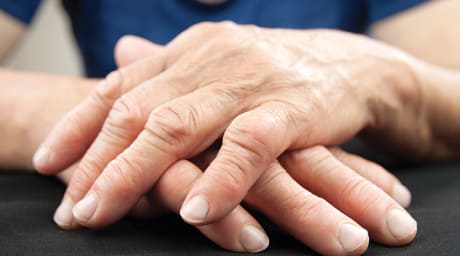 Osteoarthritis
Get the facts about osteoarthritis, including the symptoms and doctors who treat it.
43 Ratings with 20 Comments
1.0 Rating
June 8th, 2017
Never Again.
I was pre-warned about Dr. D'Agostini Jr. ...I came prepared. First visit went OK. He was All-Business, which is usually ok with me. I came in because I've been experiencing knee pain.First step, X-ray revealed some arthritis, which I was given a cortisone shot. I left the office with a prescription for an MRI. I was told to have the study if I still had pain, and return with a copy of the MRI. Well, the shot helped a little, but I still had pain so I had the MRI done to rule out torn meniscus. As far as I know, only an MRI can do that. I went back for a second visit with MRI in hand. Dr. came into the exam room and asked how is the pain level. I told him it felt a little better but I still had pain. He yelled "YOU just wasted $1,000! I never was spoken to by a Dr. like that. It felt like he slapped me in the face. Then he continued to berate me, and then threw a paper at me saying, if you can't understand what i'm saying, read this. I got up and left with tears in my eyes. New Jersey has many GREAT Doctors. There is no reason for anyone to put up with this arrogant man. I wonder if he has always been so rude, or does he feel that he's at the end of his career and doesn't need to worry about patient acquisition/retention.
5.0 Rating
March 26th, 2016
5.0 Rating
December 4th, 2015
1.0 Rating
September 29th, 2015
I brought my mother to see these two doctors on 3 separate occasions. They leave a lot to be desired in the area of bedside manner, compassion and explaining condition and procedures to patients. On our first appointment with Dr. Dagostini, he was training his daughter and using my time for her education. That's fine but I felt no appreciation for the fact that it was indeed by time and not his nor hers, and I would hope that his daughter becomes a more compassionate doctor than her father. On the second and definitely last appointment, the good Lord restrained me from becoming physical with this man because that is what a son is obligated to do when someone is maliciously and deliberately hurting his mother. We were his first appointment of the day and his demeanor was already sour and belligerent, even with the poor staff who have to endure this insufferable bully! If this man answers to someone at this practice, he should be reprimanded because we feel they did no service to my mother. She went there for treatment and got none, really. She got a cortisone shot in her hip, we came in for a follow up , and this man asks my mother if she wants a hip replacement, in a very confrontational manner. Maybe I'm wrong, but doesn't there need to be a lot more to get to such major surgery? He never bothered explaining options, procedure, nothing at all, just sent us on our way when she answered that no, she didn't. As far as Dr. Lowenstein, I felt from the start that he was in a bad mood from a phone call which he took in his office, and which we could overhear in the examination room him arguing with someone on the other end. The lack of professionalism in this office is ridiculous. I think the big problem with both these men is the following: my mother does not speak English and I am her interpreter. We sensed real hostility from both men because of this and a real discrimination based on this. I will be sharing our unfortunate experience with this office online.
1.0 Rating
September 25th, 2015
Never again
5.0 Rating
August 18th, 2015
5.0 Rating
March 24th, 2015
at seventy five years old and seeing my fair share of doctors, I have found Dr. D'agostini to be by far, one of the very best, most effective and thorough doctors I have ever had the privileged to be associated with. An " A + " is my heart felt rating.
Doctor's Response
Hello,Rich. Thank you for taking the time to write a review for Tri-County Orthopedics and for sharing your kind words. It made our day! Thank you for choosing Tri-County Orthopedics for your care.
1.0 Rating
March 11th, 2015
WORST DOCTOR EVER!!!
Aweful human being!!! Dr d'Agostini is the most unprofessional, nastiest, uncompassionate, rudest person I have ever met, and he's a doctor!! He did surgery on me and yelled at me, cursed at me, and even threw a clipboard at the table next to me when I told him I wish I never did this surgery. Then stormed the room slamming the door behind him(and never came back!)I would never recommend him to anyone...not even my worst enemy!! He wouldn't even answer my post op questions BC he said he already answered them and I should have listened then (which was 5 minutes after waking up from anesthesia). He shouldn't be allowed to practice medicine..or even be allowed near human beings!!
5.0 Rating
July 19th, 2012
Walking again
I had double knee replacement with Dr.D in 2007. I had no problem getting an appointment, surgery was scheduled for 2 weeks away. He answered ALL of my questions in the final visit before surgery. He saw me in the recovery room before I went to a room. He came in the next day to remove the bandages and the drains, checked to make sure I had been up walking in the hall. Came again the 2nd day to see how I was doing. He does not like patients to go to RIM, but to go home from the hospital, which I did. I had one week of therapy at home and then went to an out patient place. In 12 weeks I was walking 1 mile a day and feeling just fine. He has his ways of doing things, but I could not have had better care. He continues to see his patients every 2 years, I have not heard of another doctor that does this.
1.0 Rating
April 5th, 2012
Condescending ... was it just us? Go Elsewhere ...
Simply put, WOW, if I needed verbal abuse, I'd not try to find it in my son's orthopedic surgeon whom I and my husband went to see for help with his shoulder injury. He was recommended for sports injuries, with lots of pics of stars on the wall. He's not for us normal people. I believe Dr. Dagositini's negative, condescending attitude was a major factor in my son's slow, uncertain recovery. GO ELSEWHERE...PLEASE!
1.0 Rating
March 31st, 2012
I almost lost my leg to this Dr.
I went to Dr. D'Agostini with an MRI showing a torn patellar tendon. I had crippling pain and was completely unable to extend my right leg at the knee. After an very hasty and unthorough examination, he told me no surgery was needed, only physical therapy. Upon asking about my actual wound, he angrily dismissed it as "a benign-looking healing wound". Feeling uncomfortable with his diagnosis, I sought a second opinion. Long story short: I had a significant infection in my leg that had to be surgically debrided as it was spreading to my shinbone. Afterwards, I went through four weeks of intravenous (IV) antibiotics therapy to completely get rid of the infection. From what I gather, Dr. D'Agostini seems to be a very skilled surgeon. But what will that do if he is incompetent at diagnosing the issue that requires surgery? Had I heeded his medical guidance, I may have lost my leg to treatable infection. He needs to show more humility and patience in listening to patients' concerns.
2.3 Rating
May 29th, 2011
I was made to feel like a "bad child" who had spilled the milk
Difficulty in raising my leg. First visit went well, x rayed at office indicated arthritis. Was not able to ask questions! When I tried, I received a bold "I'm speaking!!". So left with a shot and a dismal feeling. Follow up visit much improved, was able to ask questions, but was not given a time line or other options, but rather. "I don't go by x rays"....Ok, leaving me a bit jaded. While this doctor came highly recommended and had treated me and my family over time, his 'curt manner and less than patient interest or his ability to connect as doctor to patient, with some compassion is essentially non- existent I do not want a new bbf; however when faced with surgery, would have liked someone in my corner.
Nearby Doctors

Dr. Robert Dagostini Jr is similar to the following 3 Doctors near Cedar Knolls, NJ.