Rate Now
Share Your Experience
Have you seen Dr. Robert Deveney?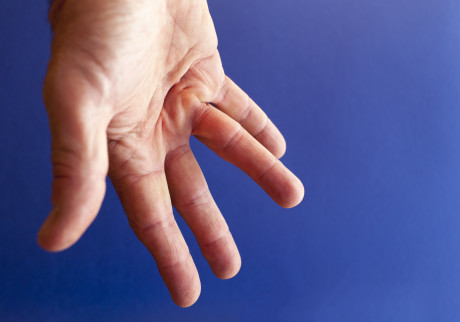 Dupuytren's Contracture
Dupuytren's contracture is a thickening of the tissue beneath the skin of the palm of your hand
34 Ratings with 16 Comments
1.0 Rating
April 7th, 2017
5.0 Rating
September 3rd, 2016
Excellent knee replacement
1.0 Rating
August 30th, 2016
For Your Consideration
I am so DISGUSTED and concerned about the ENTIRE Organization make sure to do research BEFORE.. entrusting Your LIFE to them. Be a informed Consumer _ these are Big Business and Big $$$ for this "Practice: This holds true with Administrative personnel also. should You decide to be in the Medical field * Learn to Give CUSTOMERS/Patience courtesy and Respect _ if you don't care Don't work in the Medical profession.* NO FAITH whatsoever in the Doctors and Staff, they have NO interest or Concern about the Wellbeing or recovery Before During and AFTER procedure.. received MORE Care & concern from the rehab center than Danbury Orthopedic. BOTCHED Procedures, preformed unbelievable, people entrust their LIVES to these" Professionals" are dismissive to important questions or concerns _ oh, well "these things happen" Really , is that the Best answer You can offer? Doctor or PA _ You All should be Ashamed of Yourself!!! They are so full of themselves.so perfect. And yet, a Good part of Life has been TAKEN away, the Quality of my life will NEVER be the Same. I wish that i had done more research and review before getting involved with this group . Reconsider doing business with them.
1.0 Rating
July 26th, 2016
3.0 Rating
July 18th, 2016
2.0 Rating
July 12th, 2016
Dr Deveney did not spend much time with me, only examined my knee and asked a couple of questions. He was clearly getting frustrated when I asked him to be more specific with his diagnosis (did not look at xrays in same room as I was, would not explain exactly where my knee cap was chipped). I don't think I will be going back to him.
3.0 Rating
June 29th, 2016
Good surgeon, absent personality and interest.
You're going to deal more with his PA, Chris, than you will the doctor. After surgery the doctor didn't come speak with me, and neither did his PA. Just a "everything was fine" from the nurse. Still recovering, so I can't report on the final outcome of the surgery, but if you need warm and fuzzy treatment is suggest seeking out another knee guy. It feels like you're just a case, and an insurance billing.
5.0 Rating
June 23rd, 2016
Exceptional care. Dr Deveney was courteous concerned and showed compassion for my situation. The diagnosis and follow up was exact and excellent.
5.0 Rating
April 11th, 2016
2.0 Rating
October 3rd, 2015
You do NOT GET QUALITY CARE HERE!!!
He is a fine surgeon. As long as everything goes smoothly and you have NO QUESTIONS ! This place is like a factory line., it runs at one speed. You see the Dr. For a little bit of time, and the PA ( Physicians Assistiant ) spends most of the time with you. If you want good 1:1 quality care do NOT go to this practice.
5.0 Rating
August 26th, 2015
HIP REPLACEMENT SUCCESS
I EXPERIENCED AN EXCELLENT OUTCOME WITH 2 TOTAL HIP REPLACEMENTS DONE BY DR. DEVENEY, 4 MONTHS APART IN 2015. WITH BOTH SURGERIES I HAD LITTLE OR NO PAIN, WAS UP AND WALKING DAY OF SURGERY AND BACK TO DRIVING AT 3 WEEKS. DR. DEVENEY IS A SKILLED SURGEON AND HAS SURROUNDED HIMSELF WITH A FINE EFFICIENT STAFF. HE ANSWERED ALL MY QUESTIONS AND IHAD COMLETE TRUST IN HIS JUDGEMENT AND FELT HE WS IN CONTROL OF MY CARE FROM MY FIRST VISIT THROUGH OUTPATIENT PT. IF YOU NEED A DOCTOR THAT PATS YOU ON THE HEAD AND CHATS WITH YOU ABOUT YOUR AILMENTS FOR AN HOUR HE'S NOT YOUR GUY. IF YOU WANT AN EXCELLENT SURGEON WHO GETS YOU BACK TO NORMAL IN THE SHORTEST TIME POSSIBLE, HE'S YOUR MAN!