Rate Now
Share Your Experience
Have you seen Dr. Samuel Bharksuwan?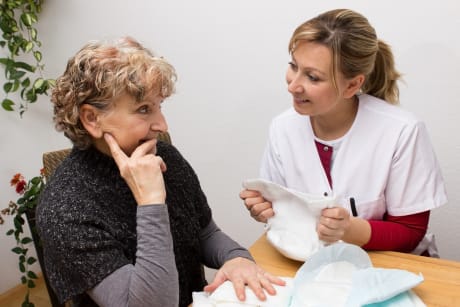 Urinary Incontinence
Learn about the symptoms and causes of urinary incontinence or urge incontinence.
Quality Rating
Highly Satisfied
43 Ratings with 13 Comments
5.0 Rating
June 16th, 2016
Best doctor!
I just had my first exam with Dr. Bharksuwan and I was so pleased with the visit. The office staff and nurses are extremely polite and friendly. Dr. Bharksuwan met me before the exam and took the time to know my history and any concerns I may have had. I will definitely return and recommend my friends.
5.0 Rating
February 25th, 2016
5.0 Rating
August 26th, 2015
Wonderful!
1.0 Rating
July 18th, 2015
Horrible experience
This is one of the most arrogant physicians I have ever dealt with. I am new to the area and this was the doctor "in-network" for me. I spent 6 weeks trying to just make an appointment with him. His office staff told me he needs to review each chart before choosing to accept a patient! I didn't realize an ethical physician would need to review my case prior to agreeing to see me. I am 30 years old and completely healthy with my first pregnancy! After waiting 6 weeks I called his office again and his nurse told me he still had not had time to review my chart. I told them I really need an appointment. I am new to the area and in my 3rd trimester. I heard him in the background over the phone telling his nurse "just tell her that her case is too complex and I cannot see her." I asked the nurse what he meant by that...I have no medical conditions and it's been a healthy pregnancy so far. She had no explanation to give me and by her tone I could tell that even she was embarrassed that I heard him say that. I am alarmed at how unprofessional this doctor is. He has wasted 6 weeks of my time and potentially disrupted the continuity of my care.
Doctor's Response
This reviewer does not provide the public with an honest review of our clinic. We strive to provide the most compassionate care for our patients. We appreciate both positive and negative reviews, as they allow us to improve our patients's experience in our clinic. However, when a review like this comes to our attention, we feel the need to respond. Most of the information in this review is inaccurate, exaggerated, and fabricated. To a keen reader, there are many holes in the story. We will not go into detail as we do not believe this forum is appropriate for such activity. We will be glad to discuss this review with any potential patients, privately. Please call us.
SHOW
1.0 Rating
March 19th, 2015
Never Again!!!!!
I tried so hard (for 7 months) to tolerate this office/doctor. In the end with 6 weeks before my due date I had to get out of there. Just awful. Always 1-1.5 hour waits (even first thing in the morning). Apathetic to Hostile office staff and nurses. 3 separate times forgot or lost my prescriptions, twice lost my lab results. He would leave the room in the middle of my appointment to check results (clearly didn't even glance at my chart before entering for 2 seconds to remember me, what my needs were or what tests I needed or had done) and NEVER CAME BACK. This was literally 1/2 of the visits I made. He would say "let me go check that real quick" then the rude nurse would come back to give me the news. I always still felt like we were 1/3 into the appointment and I had questions for him. I WOULD HAVE TO WAIT UNTIL HE WAS DONE WITH THE NEXT PATIENT (sometimes 2 or 3) for him to come back in and finish my appointment. I would NEVER recommend this office or doctor to anyone! Avoid at all costs. He was personable when I would briefly see him, but after 15+ office visits I was seriously at my wits end with the nonsense, apathy, lack of organization and curtness from the staff.
5.0 Rating
April 4th, 2014
Love this doctor!!!
I am currently seeing Dr. Bharksuwan for my first pregnancy and I honestly don't think I could have found a better doctor. I was very nervous at first that I was going to be judged anywhere I went because I'm only 19 and I have Medicaid.... That was not the case with this doctor. I have never felt so comfortable. He doesn't rush his appointments. He listens to your concerns and doesn't take any risky chances. He's also very personable and loves to chat. His staff is very professional and they are all such sweet ladies. As soon as I walk in they know exactly who I am. I don't even have to tell them my name anymore. I'm never usually late so when I do come in a little late they always say "we were wondering where you were". It's nice to know that his staff also make an effort to get to know the patients. Overall he is a wonderful doctor and he will continue to be my doctor for any future pregnancies.
5.0 Rating
December 27th, 2013
Administration
Dr. B as most of patients know him by is a great doctor. I worked with him for 4 years before becoming a patient. Since I got a chance to know him as a employer, specialist and a workmate. I seen his dedication to the patients and his love for medicine. As I ventured to a different career I knew Dr. Bharksuwan would be my Gyn. I have complete faith, trust and value his expertise.
5.0 Rating
April 17th, 2013
AMAZING!!
5.0 Rating
September 28th, 2011
Professional and Personal
I honestly cannot say enough good things about Dr. Bharksuwan (pronounced like "Barts the one"). Because I have moved a few times I have had several doctors who made me feel like I was just a policy number instead of a person. It actually caught me off guard when I first started to see Dr. Bharksuwan that he knew who I was and took interest in my overall well being. He treated me like I was the only patient he had and went above and beyond to answer questions, work me into the schedule at the last minute, and truly help me. I don't know too many doctors that want their patients to have the personal cell number, much less respond when you text him questions at 8pm, but Dr. Bharksuwan did. His professionalism and care for his patients has restored my hope that there are still good doctors in this world. I will post this review on every site that I can because he has made that big of an impression on me and we need more doctors like him.
5.0 Rating
September 4th, 2011
1.0 Rating
November 2nd, 2010
Beware!
Dr. Bharksuwan chose to stop my labor when there was no medical reason to. I was 39 weeks, repeat C-section with a 9lb 14oz boy. After a reaction to the medicine he prescribed, a big dose of benadryl he had the nurse send me home. My baby died the next day. It was on Halloween.
Doctor's Response
We strive to provide the most compassionate care for our patients. We appreciate both positive and negative reviews, as they allow us to improve our patients's experience in our clinic. However, when a review like this comes to our attention, we feel the need to respond. This reviewer had a tragic event occurred to her, at the hospital. Unfortunately, this review contains little facts about what happened. Readers should know that Dr. Bharksuwan was not her attending doctor the day her baby died.
SHOW
Nearby Doctors

Dr. Samuel Bharksuwan is similar to the following 3 Doctors near Spring, TX.