Rate Now
Share Your Experience
Have you seen Dr. Vicki Allen?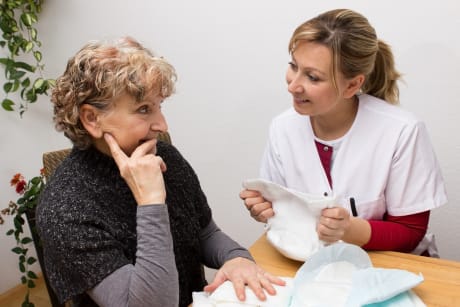 Urinary Incontinence
Learn about the symptoms and causes of urinary incontinence or urge incontinence.
41 Ratings with 17 Comments
4.0 Rating
July 25th, 2016
She is great and likely her ratings will continue to improve with the move to Flower Mound. The office in the hospital was like they were herding cattle through and the scheduling staff wasn't friendly. She has been doing this a while and is very good. It is on you to log in and follow up on your tests. The office doesn't follow up with you.
5.0 Rating
June 27th, 2016
Highly Recommend
1.0 Rating
April 11th, 2016
Condescending and Cold
Vicki Jo Allen is a very cold and condescending. I was having a miscarriage right in front of her and she told me I wasn't even pregnant. I had a horrific ordeal miscarrying and the office later called to verify the pregnancy. How can an Ob/Gyn misdiagnose a 5+ week pregnancy?? I will never recommend anyone to her. Go to her at your own peril.
1.0 Rating
April 29th, 2015
Terrible practice, Terrible service
Dr. Allen is average, however this practice has a group of rude, not helpful and very condescending staff. I have called their office to schedule appointments and consult with minor issues only to be ignored, not called back, and they even cancelled an appointment less than 24 hours before I showed up. Find another practice, that's what I did and I'm very happy about the change.
4.0 Rating
February 12th, 2015
Great Doctor!
I went to Dr.Allen for the first time today. I was worried at first due to some reviews I had read, but after meeting Dr.Allen I soon found they were all wrong. She is friendly, talkative and engages in conversation with you. She is interested in your needs and problems. Her office staff is very friendly, and the office is clean and neat. Although this visit was only for an annual pap, I look forward to visiting her office and having Dr. Allen as my OBGYN when I decide to have children.
1.0 Rating
November 5th, 2013
On call services are AWFUL
I am pregnant considered high risk had an issue late at night called the on call number dr Allen called back was explaining to Her what was going on instead if her being concerned she wants to question me why my dr isn't doing certain things. She needs to be more caring, compassionate, and act like she cares for patients. I am now questioning my obgyn. Which is in the same office. Would not recommend her AT ALL
1.0 Rating
April 23rd, 2013
Not Happy!
I was new to the area and found Dr. Allen online. I was due for my yearly checkup and I was having a specific issue with one of my breasts. She checked that breast but never even checked the other one. Also, she never addressed other issues that I had filled out on my paperwork. Overall, I was not happy and will be looking for another doctor next year!
5.0 Rating
November 11th, 2011
I think she's excellent.
I, too, am very surprised at the negative comments on this site. I previously had an unpleasant experience with an office staff member at an OBGYN office in Denton, so I switched to Dr. Allen in Lewisville. For my second pregnancy. Dr. Allen is very to the point and very friendly. I tend to be a very verbose person and a bit of a worrywart. She has always listened and has always told me what I needed to hear. I believe a good doctor tells you what you need to hear, whether you like what you're hearing or not. She's very knowledgeable about what she does, and she doesn't try to push prescriptions on you. I feel she does care about her patients and what she does. When I had my baby, there were some complications, but Dr. Allen was the epitome of calm and confidence. Her mere presence made me feel much better and the delivery turned out just fine. I'm very grateful to her and the Lewisville hospital nurses. Dr. Allen is a busy doctor, so she may be brief at times, but she will always take the amount of time that is necessary during your appointment. Thank you Dr. Allen I WILL CONTINUE TO GO TO YOU. :)
3.7 Rating
May 5th, 2011
We are not all the same
Dr Allen has been my doctor for only a few yrs. She is straight forward and to the point and i agree with "completely confused" when a doctor is inspecting you in the area she specializes in, you really dont need the small talk that could distract from anything that could be important. I like the in and out visits.
3.7 Rating
February 14th, 2011
Completely confused
I was very surprised at the ratings received by this doctor. I have been going to Dr Allen for 4 yrs for my annual wellness visits and have no children. I was referred by my sister, whos children were delivered by Dr Allen, and i lover her. She is very to the point, can see a problem and diagnose it on the spot; and the 2 times that i have been diagnosed with something she hit it on the nose. She is straight to the point and thats what i love about her, beating around the bush (no punn intended) is what is needed especailly when dealing with the areas that we go to see her about. If we, as grown women, really need someone to stroke our head or hold our hand because we need that much nurturing tells me that we are not as grown as we act to be.
1.0 Rating
November 15th, 2010
Told me about her vacation and hurt me during exam
I saw this doc once for an annual exam after moving to town. She was hands down the worst gyno I've ever seen. She hurt me during the exam and when I complained she continued and told me that it hurt because I had an infection. I'm over 40 and I had no symtoms of infection before the exam and even in the past when I did have an infection no gynecologist ever hurt me during exam. I wanted to discuss some perimenopause symtoms as a part of my visit and she just told me to exercise (I'm fit, eat well and my BMI is good). She talked in detail about her recent beach vacation during this conversation rather than focusing on any of my concerns. I'm a reasonable person and I expect reasonable behavior from my physicians. Luckily I'm healthy if you have any serious concerns or you even have minor ones don't see this woman. Also, if you want a pelvic exam that is gentle or at least not rough and painful don't see this woman.
5.0 Rating
June 3rd, 2010
Surprised at reviews.
I have been a patient of Dr. Allen for 9 years now. She delivered my daugther and twin boys. She is wonderful. And, who said you can't switch from one doctor to another? Every time I come in, she remembers the name of my kids. She is caring, and wonderful. And, she is to the point. I love going there for check ups every year.
Nearby Doctors

Dr. Vicki Allen is similar to the following 3 Doctors near Flower Mound, TX.