Rate Now
Share Your Experience
Have you seen Dr. Wladislaw Fedoriw?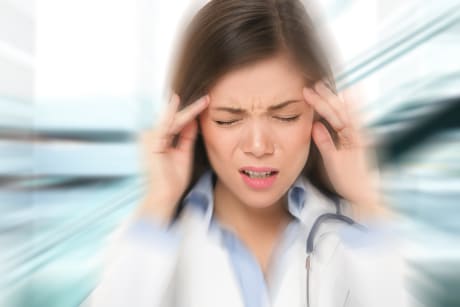 Migraine
Get the facts about migraine headaches, including the different types of migraine and migraine triggers.
Quality Rating
Highly Satisfied
238 Ratings with 142 Comments
5.0 Rating
August 19th, 2017
Inversion Table instead of Surgery
4.0 Rating
June 26th, 2017
Poor back office manager
2.0 Rating
January 12th, 2017
Wasn't impressed
Took my mom to see him due to back and shoulder pain. Seemed ok at first, but after injections didn't help - didn't seem like he cared. Gave RX for pain meds dose was way too much and she had reaction. When we called back staff just said to stop taking them. DUH! Didn't need a medical degree to figure that out. Overall experience felt like we were wasting their time being there.
5.0 Rating
November 2nd, 2016
Wonderful experience highly recommended
My experience at Arizona back pain Institute was nothing short of fabulous. The staff was extremely courteous and helpful as well as patient with as I had some issues due to not having my records there for them to access they were kind enough to allow me to have them faxed over even though it took almost 2 hours. My appointment was for 2 o'clock and I wasn't actually seen until about 4 but that was only because they were waiting for my records. Even though my appointment was at 2 o'clock I was still able to be seen that same day once my records were received when they could have easily said sorry we're unable to see you today because your appointment time was at 2 o'clock however they were extremely accommodating. Once I saw the doctor I was beyond impressed with his knowledge regarding my diagnosis ( torticollis ) of all the doctors I have seen no one was able to give me as much information as he did in one single appointment. If you're searching for answers I would highly recommend this doctor !!! Also he was rated top 10 Dr of 2014
2.0 Rating
June 2nd, 2016
Questionable New Law
3.0 Rating
February 12th, 2016
he's the best
5.0 Rating
February 5th, 2016
Best back pain Doctor I've seen in 15 years!!
5.0 Rating
February 5th, 2016
Ms
Personable and helpful. I couldn't have been anymore pleased with the doc and staff. Dr. F was kind , polite and throuroughly explained my condition and prognosis and CT scan results. We had great eye contact and he set my mind at ease. Thank you Dr Fedoriw for taking the time, you will be by back doctor for life! Highly recommend!!
5.0 Rating
January 17th, 2016
Got My Life Back
My Pain Doctor of three years left the practice I was a patient of. I was totally happy with him. When I saw the Doctor I was assigned to, the first thing out of his mouth was that I was taking way too many pain meds and that no one should ever take over 120mgs of Morphine or its equivalent per day. His belief was that most pain can be relieved by using epidurals and facet injections of the spine. The first thing he did was cut my pain meds in half. No titrating my medication down gradually. He had me to start a regiment of epidurals and facet injections. After 25 injections (with nine more to go) in the course of forty eight weeks, all I was doing was lying in bed and letting all my household chores pile-up, letting my grooming needs go unmet and worse of all, shutting every one of my friends and family out of my life, I finally decided that enough was enough. So I started my journey to find a Pain Doctor who had at a minimum, one ounce of compassion. Finally I came upon the following: Dr. Wladislaw Fedoriw MD, Physiatrist, Anesthesiologist, Pain Medicine. I had never heard of a Physiatrist so Googled it to find out. Physiatrists are rehabilitation physicians. They are medical doctors who have completed training in the medical specialty of physical medicine and rehabilitation. Specifically, rehabilitation physicians: * Diagnose and treat pain * Restore maximum function lost through injury, illness or disabling conditions * Treat the whole person, not just the problem area * Lead a team of medical professionals * Provide non-surgical treatments * Explain your medical problems and treatment/prevention plan That right there was enough to make an appointment. Then I read further and found: Dr. Fedoriw's Care Philosophy: "Some pain centers push you to have injections. We don't do that. We follow the Standard of Care written by the AMA. If your doctor didn't try oral steroids, home neck or back traction, or spine specific physical therapy before injections... get a new doctor. Come see us for an honest second opinion. Unlike some pain centers, we will write your pain medications even if we are not doing injections with you. It's that simple." I couldn't believe it!!!! I made my appointment with Dr. Fedoriw right away. They were able to see me the following week. During my consultation, Dr. Fedoriw put in plain words what my X-ray revealed (something that was evident to a layman like me yet all the other Doctors missed). He upped my dosage of pain meds, told me I wouldn't have to be a human pin cushion any longer and started me on a home lumbar traction device; an easy to set-up system to use for 30 minutes a day for 5 weeks. Upon my next appointment in five weeks, I felt like my old self again. I found my life again! I can't climb mountains or run marathons but I can do things I enjoy like cooking and having friends over. Although limited, I can still get out of the house under my own volition and enjoy being with friends and family, doing things like going out to the mall, hitting-up new restaurants and going out to the movies and sporting events. Thank you Dr. Wladislaw Fedoriw for giving me my life back.
5.0 Rating
October 9th, 2015
Nice Doc!
1.0 Rating
October 5th, 2015
Not impressed
1.0 Rating
September 22nd, 2015
Nearby Doctors

Dr. Wladislaw Fedoriw is similar to the following 3 Doctors near Chandler, AZ.

Dr. Charanjit Dhillon

Neurology, Psychiatry, Physical Medicine and Rehabilitation

Chandler, AZ 0.51 mi