Rate Now
Share Your Experience
Have you seen Dr. Jeffrey Palmer?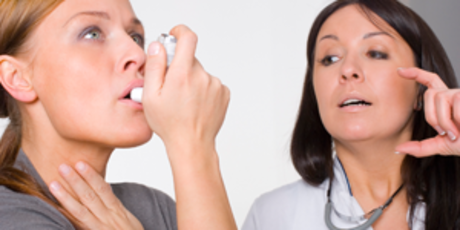 Asthma
More than 22 million Americans of all ages have asthma. Prepare to talk to your doctor about symptoms, diagnosis and treatment options.
Quality Rating
Highly Satisfied
43 Ratings with 23 Comments
1.0 Rating
July 11th, 2017
Dr. Palmer treated my daughter with biofeedback and diet for her condition. Unfortunately it did not work, but Dr. Palmer made my 12 year daughter feel like it was her fault her condition did not resolve. Bedwetting is not always caused by food sensitivities! When I asked for medication for my daughter he made me feel like a failure as a parent, so we found another doctor. Two and half years later we got a bill for 800 dollars for biofeedback treatment the bill collector said was not paid by insurance! At no time during treatment was I told I had an outstanding balance and being threatened by rude bill collectors years later at Dr. Palmers request was very disappointing to say the least. I do feel Dr. Palmer has the best intentions, but one treatment does not work on all patients and a child's self esteem needs to be considered when the treatment plan fails.
5.0 Rating
February 5th, 2017
Dr. Jeffrey Palmer In Cleveland Ohio Performed My Labiaplasty
I went to see Dr. Jeffrey Palmer for my enlarged labia. Dr. Palmer is highly trained and has a lot of experience in cosmetic urology of both children and adults. My sister had a vaginoplasty performed by him and had a beautiful result so I met with Dr. Palmer and I loved his bedside manner. I had a trim labiaplasty performed and had a fantastic result. You can hardly see the scars. I have new self-confidence and I have Dr. Palmer to thank for this. I highly recommend Dr. Palmer.
5.0 Rating
November 2nd, 2016
Bedwetting Resolved.
We took our daughter to see Dr. Jeffrey Palmer for her bedwetting issues. No one else could resolve her issue, but Dr. Palmer did. He told us that it was a team effort between the several office visits and things that we had to do at home. He fixed her problem and we are forever grateful. His office staff was great and we have recommend him to several parents who were experiencing the same problem with their children. They also had great results. We had an out of pocket expense, but It was worth every penny. We highly recommend Dr. Palmer.
3.0 Rating
September 28th, 2016
Bedwetting treatment
My son participated in 2-3 days a week biofeedback appointments for about 4 months. Unfortunately it did not work. We were told that each visit was 100% covered by insurance but they made a mistake and we ended up owing thousands of dollars. Each visit an ultrasound is used which is $600 out of pocket if you have a high deductible insurance plan like we do. So up to $700 per visit 2-3 times per week is out of range for most people. And sadly, did not work for my son.
5.0 Rating
July 28th, 2016
Dr. Palmer fixed my son and my husband
Dr. Jeffrey Palmer is a great surgeon. He revised my son's circumcision. He did such a great job that we asked him to also revise my husband's circumcision. They both look great. My husband says that he wanted to have it done years ago, but could not find the right surgeon. My husband and I are very happy with the results.
5.0 Rating
July 10th, 2016
5.0 Rating
May 28th, 2016
Everyone should go
We went to the other pediatric urologists in Cleveland to help my daughter. No one took the time and no one figured out her problem. Dr. Palmer di and he fixed her!!!!!!!!!!!!!!!! !
5.0 Rating
April 9th, 2016
5.0 Rating
April 18th, 2015
Hypospadias repaired -- looks like he never had surgery
Dr. Jeffrey Palmer operated to fix my babies hypospadias. I was referred by my doctor to see Dr. Palmer because he was suppose to be one the best surgeons in the country to fix conditions of the private parts for boys and girls regardless of age. They were right. It looks like he never had surgery. No one would ever know that he was born with a problem. Not only that but he takes every phone call when I called one night and weekend. I thank him every day that I change his diaper.
5.0 Rating
October 11th, 2014
Dr. Palmer cured both my daughter and I
My 15 year old daughter -- yes 15 years old -- had bedwetting problems. Her pediatrician said that she would out grow it. Well he was wrong after trying everything. My friend told me about Dr. Palmer and how her cured her son of daytime accidents in only a few weeks. He cured my daughter in just a few months! Seeing how well he cured my daughter, I asked about my own bladder issues of constantly having to urinate since I was 6 years old. Dr. Palmer fixed my problems in less than 2 months. By the way, he cured the two of us without any medications.
5.0 Rating
April 13th, 2014
Travels All Over Ohio So That Patients Don't Have To.
I live in Sandusky and I brought my daughter to see Dr. Jeffrey Palmer for bedwetting who cured her in just a few weeks. I was informed by Dr. Palmer's staff that they all travel from the eastside of Cleveland to Sandusky, Ohio so that his patients don't have to drive the distance. I found out on my last visit that Dr. Palmer now has an office in Youngstown, Ohio so I told my friend who's child has a problem with his circumcision. They live in Boardman and she made an appointment 10 minutes from their house. I don't know of another doctor who does this for his patients.
5.0 Rating
February 2nd, 2013
BEDWETTING CURED
My child is 15 years old. I was told by his pediatrician that he would "out grow it". Well he didn't! I went to several "specialists" and no one could fix the problem. I heard about Dr. Jeffrey Palmer's reputation of curing bedwetting in children of all ages. His reputation is well earned. My child was cured in 2 months! I complement him and his staff for their professionalism and their kindness. Thank you Dr. Palmer!!!