Rate Now
Share Your Experience
Have you seen Dr. Victor Phan?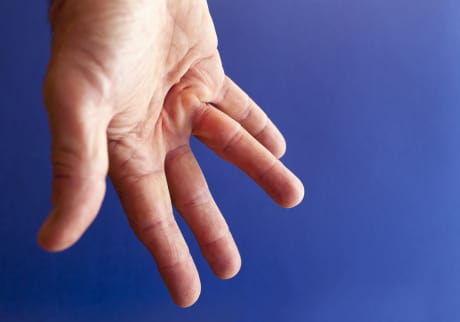 Dupuytren's Contracture
Dupuytren's contracture is a thickening of the tissue beneath the skin of the palm of your hand
36 Ratings with 15 Comments
1.0 Rating
February 26th, 2017
Abusive Doctor-Elderly stay away!!!
Horrible Doctor. Verbally abusive, flys off the handle and calls the cops on his patients when they call and request a pain med refill. This man should have his license revoked for his mis conduct. I hope Memorial Hermann will review this case and discipline him. Stay away from him. This is not an exaggeration. Stay away, especially if you are elderly, he has no patience for the elderly.
4.0 Rating
January 27th, 2017
One of the top of the line, very professional doctor and surgan.
I've had excellent results with several different surgery's by Dr. Van Phan. Insurance caused a major delay on getting a MRI once but each surgery I've had were very well done. The only regret I have is like most doctors now days, they are so overloaded its hard to get a prompt appointment and sometimes I feel he rushes in, tells me what he wants me to hear then he's off to the next patient. All in all he is a very excellent doctor in his profession. I highly recommend him.
1.0 Rating
May 11th, 2016
5.0 Rating
September 3rd, 2015
Domestic Technician
I have been seeing Dr. Van Phan for almost 5 years due to a knee injury when I was younger. In 5 years time my knee deteriorated so rapidly that I need a full knee replacement. I just turned 42. He has tried every last resort to keep me going instead of rushing to do surgery. He even told me to get 2nd and 3rd opinions. I have had absolutely no problems with his staff and I have never, in 5 years, seen him berate or belittle anybody. He just recently scoped my knee and the hospital staff couldn't say enough great things about him. Even the security guard told me he was great.
5.0 Rating
February 28th, 2015
Skilled and Confident
1.0 Rating
October 26th, 2014
Horrible "doctor". I would never ever in a million years recommend this guy to anyone. Terrible follow up on major complications after surgery, which resulted in 2 additional trips to the ER (again, not taking the complaint seriously even after the 1st ER visit). 2nd ER visit resulted in hospitalization & very possibly another surgery to fix the problem he didn't care about. Also, his staff is discourteousand rude. Stay away!
1.0 Rating
June 2nd, 2014
Parent of injured athlete
The physician seemed competent until after the surgery. In the hospital, a man put a hard-sale of an "ice" machine on my spouse. Apparently the doctor made money. Later, a homosexual physical therapist was used, which caused our son, then not a minor but still very young, to almost throw up. Again, the doctor suggested or agreed to the use of this particular therapist, at SE Memorial. That wasn't all. When we asked to come in for a script for a brace, the nurse said we would have no charge. The doctor later became enraged and claimed our family was "extorting" him to even date to suggest he would not charge us. He yelled and screamed on the phone. The staff is horrible. We can't even get the records. The billing department they used in Austin is also horrible. Negative experience. I wish this man would move out of our area ASAP.
5.0 Rating
April 8th, 2014
Playing Golf Again
When I first visited Dr. Van Phan I did not know what to expect but over the time of my visit to the time of surgery I was always at ease and knew what was expected of me. I had a total rotator cuff and labrum surgery done and at age 56 I was back at golfing 18 holes at 5 months. Swing has never been better. He is the best at what he does. Excellent at his field, would recommend Dr. Phan to everyone.
5.0 Rating
February 10th, 2014
Knee pain diagnosis / Treatment
Twisted my knee couple days ago and asked a friend of mine who is a professor for a referral . I already had previous surgery acl in Europe 20 years ago . So wasn't new for me. Got told Dr Van Phan is the best Ortho Doctor around , and I must say after visiting him i was impressed. The staff was very professional and courteous . They took x rays and 10 min later i had a visit with Dr Van Phan. He asked me about previous surgeries and discussed my options and treatment. Because i had previous surgeries on this knee i expected the worst ... He is going to give me surgery .... No not at all the case . He extracted excess fluids from knee and did proper treatment on it . I am able to walk again and i will have a follow up in 6 weeks. So relieved of stress and pain ! If you need an Ortho specialist i can say Dr Van Phan is the way to go !
1.0 Rating
June 7th, 2013
Very Dis-satisfied
Bad experience. All he wanted to do was operate. After getting second and third opinions I was told I didn't need surgery. Then he overcharged me for the office visit. He charged me for things he didn't do. When I disputed the charges, he simply sent my bill to a collection agency and now my credit has been damaged all because of his billing mistake. STAY AWAY!!!!!! If I could give NO STARS I would!
1.0 Rating
March 8th, 2013
Dr Phan
Dr Phan is very unprofessional . He is rude to his surgery staff and belittles them in any way possible. Although we are all qualified adults if we do not move fast enough he goes into a screaming rage. I cannot understand how he can scream and still focus on the patient on the surgery table. I would never recommend him to anyone that I know or come across. I have been in the medical field for over ten years and I can honestly say he has an awful attitude and is very disrespectful.
5.0 Rating
July 16th, 2012
Highly recommend!
Listened. Explained well. Surgery as last resort. Great care. Great manner, personable. Highly recommendPosted on 7/16/2012 3:24:43 AM
Nearby Doctors

Dr. Victor Phan is similar to the following 3 Doctors near Houston, TX.