Rate Now
Share Your Experience
Have you seen Dr. Kay Elledge?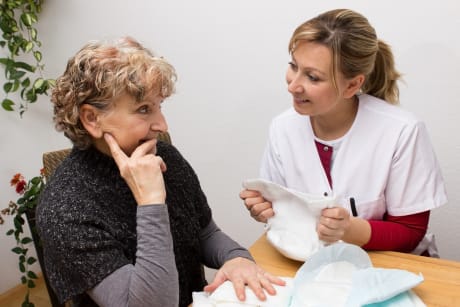 Urinary Incontinence
Learn about the symptoms and causes of urinary incontinence or urge incontinence.
30 Ratings with 19 Comments
5.0 Rating
March 13th, 2017
5.0 Rating
February 15th, 2016
Great Doctor!
5.0 Rating
October 18th, 2011
Dr. Elledge is a wonderful OB-GYN. She is very receptive to individual birthing choices and always has GREAT bedside manner. She is the doctor I would want to be in charge should any emergency arise during birth.I have enjoyed a long term relationship with her as my doctor and would highly recommend her to anyone.
5.0 Rating
August 30th, 2011
5.0 Rating
July 12th, 2011
I Highly recommend Dr. Elledge
My first visit with this dr was GREAT the staff was very nice they greet you with a smile. When they called my name to come back to see the Dr the nurse was so sweet she made me feel as i I known her for ever, she took my weight put me in a room and let me tell you i have been to other Dr office and her rooms are clean and smell good. The nurse took my blood presure and notified me of the numbers mind you I didnt know what she was talking about so she explained it to me. When it was time for me to see the Dr it did take her some time but it was worth the wait as soon as Dr Elledge enterd the room she entered with a smile and said Hi she then sat with me and asked loots of questions abot my family history it seem like she was wanting to know every thing about me because she was try to find out the best way to help me with my problem, she did spend alot of her time with me and that made me feel like she was listeing to me not trying to rush me out. She was also sharing a little bit of her life with me and that made me feel like very welcomed.Well ladies I just wanted to say I highly recomend her and her office.
5.0 Rating
June 3rd, 2011
Dr. Elledge is a wonderful doctor. She's very kind and caring and always listens to any problems you have. I've never had any trouble with her or her staff, they're all great. I moved to California when I was 6 months pregnant and needed to find a doctor fast and she was recommended to me and I was so happy when I met her. She's just the best and is totally worth the wait.
1.0 Rating
April 28th, 2011
Very Unhappy
OSHA seriously needs to come to her office! I've been a patient for 1 year and have come to see her 3 times. Aside from waiting for almost 2 hrs to be seen, I called several times trying to get her to call in a prescription, then an appointment! Her follow up is horrible, she is always running late and has dirty cups and urine everywhere. Her staff looks unprofessional, they have tatoos and really long dirty nails. All 3 times I have visited it's been the same scenerio. I will never go back or recomend her to anyone!
5.0 Rating
March 30th, 2011
Great Doctor!
I dunno how other people rate Dr. Elledge, but she is wonderful!! She is going through re-staffing, so you will be more than happy with her practice. The wait is not so bad. I have been with her over 5 years and things happen. You can call to see if she is running behind schedule. She is also like a directory for me and sends me to the right places like another doctor, counselor, etc. Dr. Elledge has delivered two of my babies and she always came back once or twice to check up on the baby and me. You cant go wrong with her.
2.3 Rating
March 29th, 2011
Waited 1:45 hours to see doctor
5.0 Rating
March 28th, 2011
SO happy with Dr. Elledge
I've been a patient of Dr. Elledge's for a couple of years now. I originally was referred to her by my primary care doctor (who just RAVED about how wonderful and caring she is). After my first appointment with her I was in 100% agreement. She is AMAZINGLY caring and really takes her time with her patients, she listens, she asks the right questions, and she's so easy to talk with. I can actually ask her those embarrassing questions that I've been to shy to ask other doctors, and she doesn't even flinch. I went in one day really emotional (like started crying in the middle of my exam) because my fiance and I had called it off. She put everything aside, sat me up and just said "oh sweetie, I'm sorry...let's talk about it." Seriously. I can't imagine going to another gyno now. I can't count how many times I've had discussions with friends about doctors where we've both said how much we adore our gyno, and then it turns out we both see Dr. Elledge!!! To address the comments about wait time in the office, I guess the first time I saw her I had a rather lengthy wait, but since her office staff has turned over in the past year, I haven't waited more than 5-10 minutes to see her any time. Usually when I arrive I don't even have to take a chair in the waiting room. Then in the room she's usually there in about 5-10 minutes. And usually if I call and need to get in for any kind of problem, I can get in within a day or 2, or they can give me an answer or guidance on the phone. Honestly, I look forward to my visits with her because she's so kind and friendly and caring. I'd recommend her to anyone, and I do! :)
1.0 Rating
March 15th, 2011
Do not recommend
The wait time with this doctor is terrible! I second all of Bethany's comments. She snapped at me for no reason once, she also failed pursue any futher testing after I explained an extensive blood clotting history in my family. 6 weeks ater my birth I nearly died of a massive pulmonary embolism. I would have to take vacation time from work for my appointments, and numerous time I would arrive for my appointment only to be told after I got there that they needed to reschedule. Don't they have fingers to dial a phone? Come on! It's crazy. I have waited 2 hours in a freezing room wearing a paper dress more times than I can count, only to hear her laughing and chatting through the wall with the patien next door. Her office staff is extremely rude as well and it's very difficult to get an appointment.
5.0 Rating
August 24th, 2010
UNUSUALLY CARING DOCTOR. HIGH RECOMMENDATION
Every time I went in to see Dr. Elledge she not only spent enough time with me to answer all of my questions and tend to my concerns, but she is clearly more knowledgable than any other OBGYN I have ever met. She is intelligent, kind, and clearly genuinely cares what happens to her patients. I would recommend her to anyone.
Nearby Doctors

Dr. Kay Elledge is similar to the following 3 Doctors near Torrance, CA.

Dr. Omid Khorram

Reproductive Endocrinology and Infertility, Obstetrics and Gynecology

Torrance, CA 0.05 mi